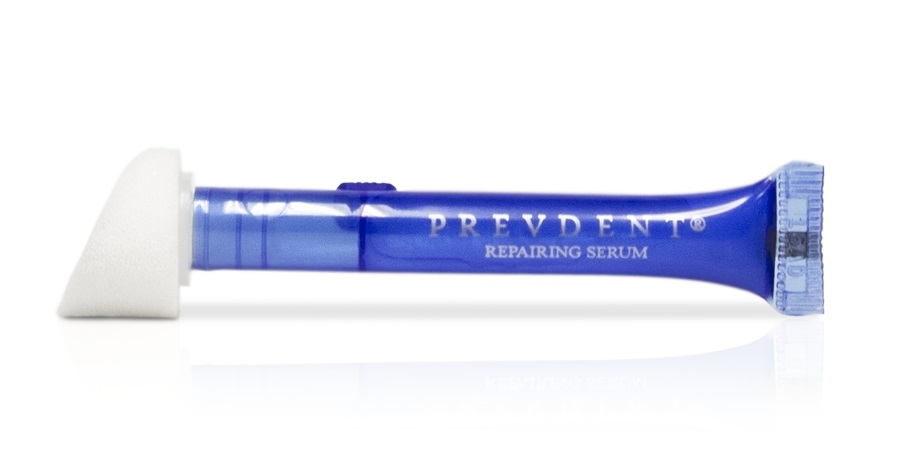 Repairing serum ampoule PrevDent® nHAp™
Ampoules easily apply the nano-Hydroxyapatite repairing serum directly to the tooth surface. Ampoules contain the purest form of nano-Hydroxyapatite (nHAp™).
nHAp™ rebuilds enamel and dentin, and protects against external influences. nHAp™ reduces tooth sensitivity by preventing the causes of it.
Ampoules are in 5 pcs. and 10 pcs. packs.
Benefits:
Formation of a protective coating against acid and subsequent reduction in hypersensitivity;
Sealing of dentinal tubules and formation of a protective dentin layer;
Protection against caries by preventing Streptococcus mutants adhering to the tooth surface;
Remineralization of early carious lesions and erosive enamel lesions;
Regeneration and repair of enamel structures;
Natural teeth whitening by restoring natural enamel luster;
Prevention of future staining by sealing tooth surface;
100% natural and safe.
Application:

To release the nHAp fluid, place ampoule between your thumb and index finger. The thumb should rest on the ribbed plastic block.

Gently press with the thumb on the ribbed plastic block to break the internal lock, which will then release the fluid, to be soaked up by the sponge.

Squeeze the ampule and allow the sponge to soak up the fluid. Once the sponge has soaked up the fluid, apply the fluid to all the sensitive teeth by dabbing the sponge on the tooth surface of the sensitive teeth.

For optimal results, nHAp™ formula should be applied and then allowed to sit on the tooth surface for 3 - 4 minutes. Do your best to avoid saliva washing the formula away during this time.

You can rinse your mouth with water after 20 minutes.

Recommended at least 10 day treatment cycle, at the same time when used with Toothpaste PrevDent® nHAp™ or Tooth Serum PrevDent® nHAp™.

Ingredients: Aqua, Xylitol, Hydroxyapatite, Potassium Chloride, Mentha Piperita oil, Linalool, Limonene

Volume: 1ml
0