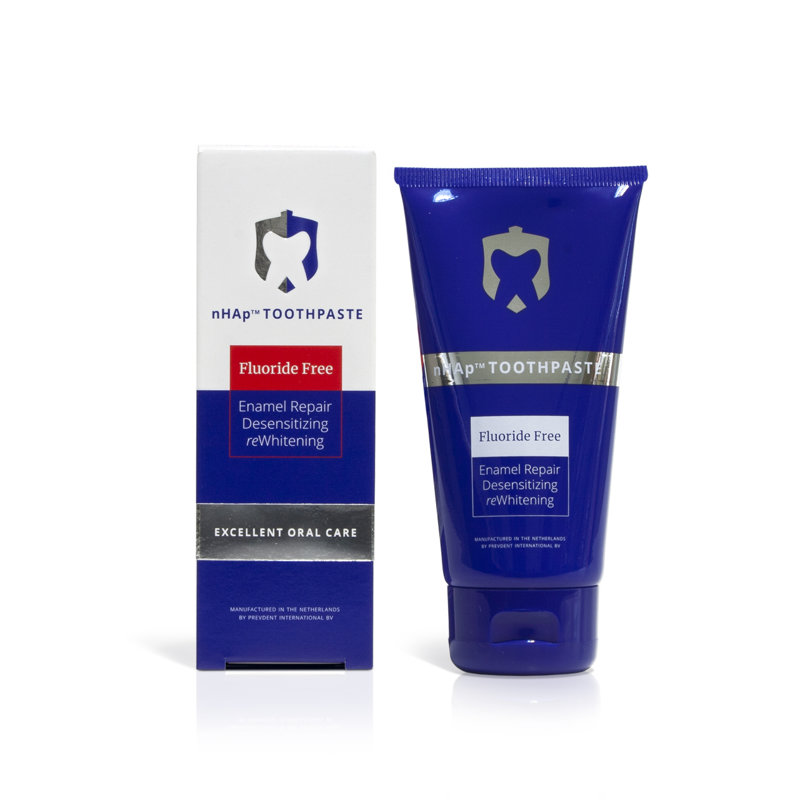 Toothpaste PrevDent® nHAp™
Toothpaste contains nano-sized particles of hydroxyapatite nHAp ™ and xylitol.
Systematic use of nHAp™ paste ensures the initial loss of caries and prevents the emergence of new lesions, and maintains excellent oral health.
nHAp ™ reduces tooth sensitivity by preventing the causes of it.

The paste contains no fluoride and is no abrasive.
Feel the difference immediately after the use of the paste - it is a cleaner and smoother tooth surface.
Recover your healthy and naturally white smile.


Benefits:

Protection against caries by preventing Streptococcus mutans adhering to the tooth surface;
Remineralization of early carious lesions and erosive enamel lesions;
Regeneration and repair of enamel structures;
Sealing of dentinal tubules and formation of a protective dentine layer;
Formation of a protective coating against acid and subsequent reduction in hypersensitivity;
Natural teeth whitening by restoring natural enamel luster;

Prevention of future staining by sealing tooth surface;

100% natural and safe - fluoride free;

Xylitol for additional caries protection.
Directions:
Adults and children 2 years and older. Apply pea-sized amount Toothpaste PrevDent nHAp onto a soft bristle toothbrush. Brush thoroughly, or at least two minutes after meals or at least twice a day or as directed by a dentist or physician.

Children under 6 years: To minimize swallowing, use a pea sized amount and supervise brushing until good habits are established.

Children under 2 years: Ask a dentist or doctor.

Ingredients: Aqua, Hydrated Silica, Sorbitol, Glycerin, Xylitol, Potassium Nitrate, Nano-hydroxyapatite, Magnesium Aluminum Silicate, Mentha Piperita Oil, Sodium Lauroyl Sarcosinate, Xanthan Gum, Phenoxyethanol, Potassium Chloride, Sodium Sulfate, Sodium Saccharin, CI 77891
Tube volume: 80 ml
0